Twitter

Instagram

Facebook | QLD | NSW | VIC | TAS | SA | WA | NT | NZ
---
Cold front set to send a burst of wind across NSW, VIC and TAS
Thursday 27th August 2020
A fast moving cold front will cause a burst of wind across parts of southeast Australia this afternoon and into Friday morning, with wind gusts reaching 100-120km/h in some areas.
The frontal system will have a tight pressure gradient as it pushes into a broad high pressure region which is currently lying across the country and causing widespread dry conditions. This gradient will help generate the windy conditions, which are expected to be among the strongest seen this winter for some areas.
Winds are increasing gradually throughout the day as the cold front approaches, but are expected to peak this afternoon and evening just ahead of and with the frontal boundary. In Tasmania, the north and west will be most affected, with wind gusts reaching 100km/h about coastal and exposed elevated areas. About the Bass Strait Islands (King Island and Furneaux Island), gusts of 110km/h are possible.
In Victoria, gusts of 100km/h are likely about elevated areas above about 600 metres, with gusts peaking around 120km/h. Gusts of 100km/h are also possible about the southwest coast this afternoon, and about the central coast in the early evening, and Gippsland coasts in the late evening.
In New South Wales, the main threat will be over the Snowy Mountains where gusts in excess of 120km/h are possible this evening and into Friday evening. Strong winds will also develop late this evening and into Friday morning about the South Coast & ranges and up to the Central Tablelands, with gusts reaching 70-90km/h, before easing towards sunrise.
Winds will be significantly lighter on Friday as the high takes hold once again.
Image 1: Wind gust forecast across southeastern Australia at 7pm Thursday 27 August, 2020 from the ECMWF model Image via windy.com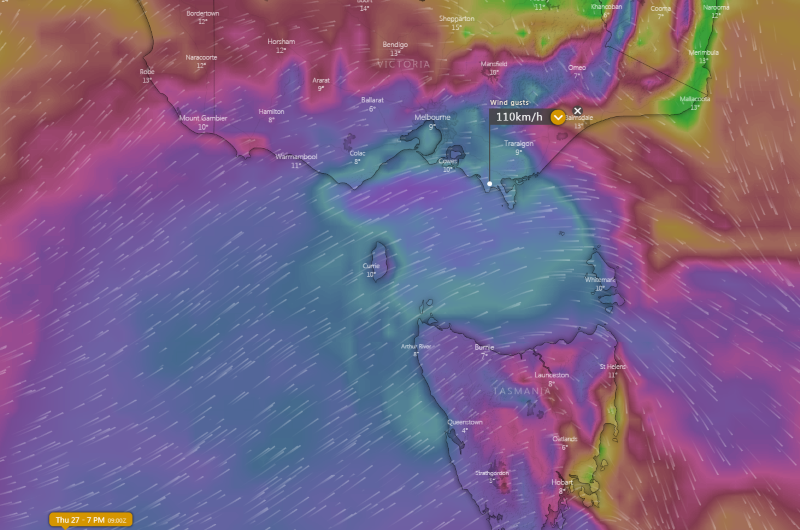 ---