Twitter

Instagram

Facebook | QLD | NSW | VIC | TAS | SA | WA | NT | NZ
---
Bushfires in full swing for the Northern Territory
Friday, 28th August 2020
We are well past the halfway mark through the bushfire season for the Top End with a Catastrophic Fire Danger issued yesterday for parts of the Darwin and Adelaide River fire forecast district. This was the first catastrophic fire danger ever issued for the Darwin and Adelaide River region. The combination of dry fuels, low humidity, windy conditions and hot temperatures provided ideal conditions for dangerous bushfires to occur during Thursday and continuing into today.
Earlier this morning the Bureau of Meteorology updated their Fire Weather Warning and upgraded the Darwin and Adelaide River fire weather district from severe to extreme, due to the onset on the dry conditions.
Grass and scrub fires were ongoing yesterday, with bushfires present for the Adelaide River, Batchelor and Howard Springs districts. Both the Adelaide River and Howard Springs bushfires are currently back to an Advice, however these may be subject to flare ups as firefighters work to contain the fire areas. Aerial bombing from firefighter aircraft have been in operation during yesterday and also earlier this afternoon.
A Bushfire Watch and Act is current this afternoon for Fowler Road, Batchelor where a bushfire is ongoing under extreme fire weather conditions. This fire in particular is burning to the south of Litchfield Park between the area of Scotts and Poetts Road, including Windmill Road in Rum Jungle. Fire crews are currently back burning this region to contain the fire with spot fires occurring near the vicinity of the above listed locations.
Fire dangers to severe levels are prevalent for the Northern Protection Fire Area, Daly South, Arnhem West, Katherine Fire Protection Area, Carpentaria East and West, and the Gregory North West and South East fire weather districts.
A severe fire danger is forecast again tomorrow for the Darwin and Adelaide River districts, with fire dangers relaxing somewhat back to very high levels for the northern and western portion of the territory into tomorrow, partly due to the increase in humidity. These fire danger ratings are subject to change, however the risk is starting to minimise into Sunday and rolling on into early next week.
Image 1: Early Warning Network Fire Danger Map from Thursday, 27th August 2020 detailing the Darwin and Adelaide River's first ever catastrophic fire danger.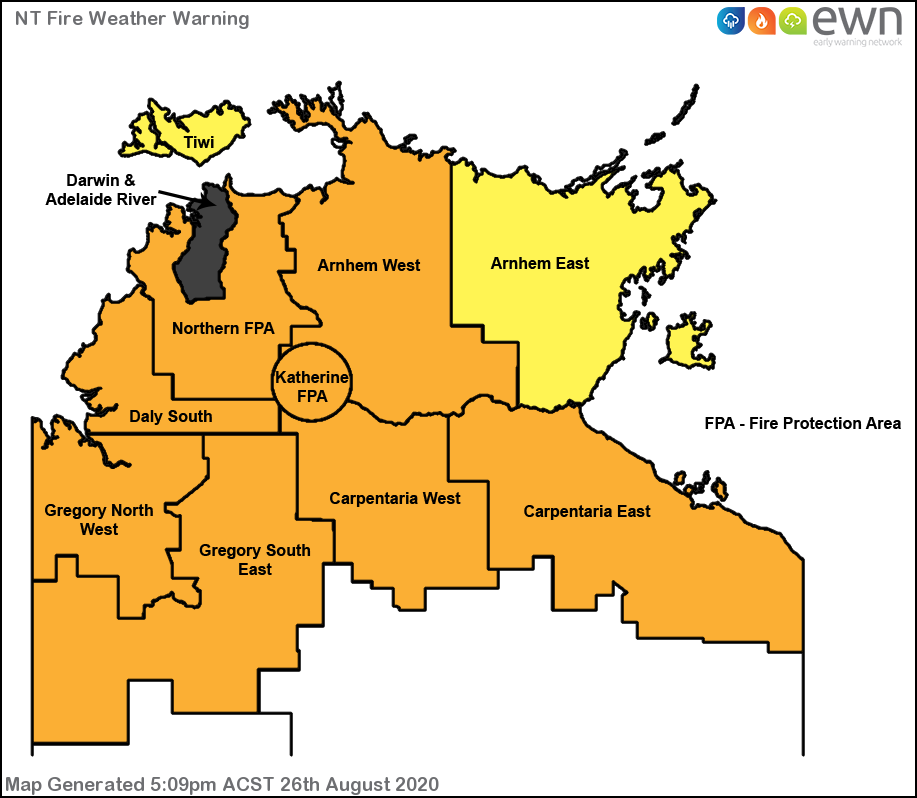 ---