Twitter

Instagram

Facebook | QLD | NSW | VIC | TAS | SA | WA | NT | NZ
---
Heavy rain tipped for Fiordland and SW Southern New Zealand tomorrow
Thursday, 3rd September 2020
An active front is forecast to move over southern New Zealand from the Tasman Sea late tomorrow and become slow moving over central parts of the country during Saturday. This front will be preceded by a strong northwesterly wind flow before shifting southwesterly into the late weekend.
This cold front is tipped to bring an end to unseasonably high daytime temperatures for the South Island. Some daytime winter temperature records were broken yesterday with Timaru equalling their 3rd highest daytime winter temperature, equal 2nd highest winter temperature for Riccarton and the highest winter temperature on record for Lincoln back to when records began in 1881 reaching 22.3°.
Looking ahead, rainfall accumulations will likely reach warning criteria about the Fiordland and southern Westland districts on Friday and Saturday morning. Heavy rainfall with strong winds may occur for parts of the northern Westland and Buller tomorrow, concentrated about the ranges during Saturday and Sunday.
There is the slight chance for evening thunderstorms to accompany the front bringing increased instability through the Fiordland region, with a moderate risk of rainfall between 15-25mm over a one hour period. This threat decreases further into Friday evening over the southern Westland district.
A Heavy Rain Warning for Fiordland is current for heavy rainfall that may cause streams and rivers to rise rapidly. Surface flooding and slips are also possible and driving conditions may be hazardous. The Fiordland is expected to record between 60mm-90mm of rainfall, primarily during the early afternoon and evening tomorrow.
A Heavy Rain Watch is current for the ranges of Westland and south of Otira, with a Strong Wind Watch current for the Canterbury High Country where northwesterly winds may approach severe gale in exposed places. The Road Snowfall Warning for Napier-Taupo Road and Desert Road have now been lifted.
Image 1: New Zealand 7-day Rainfall Outlook - 3rd September 2020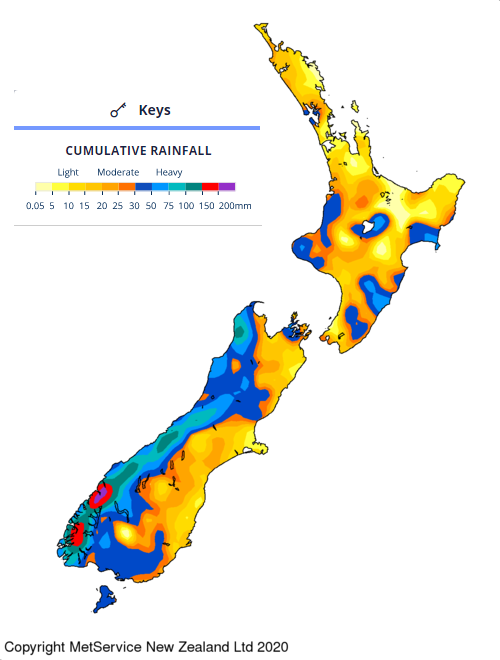 Image 1: MetService NZ Severe Weather Outlook - 2nd September 2020 for Friday.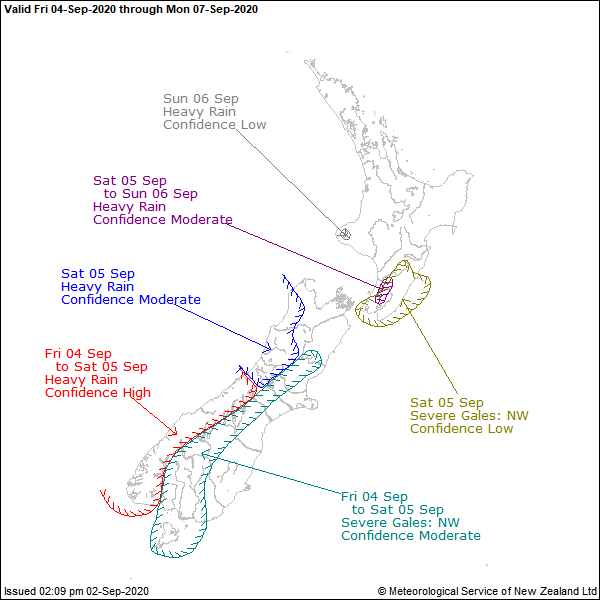 ---