Twitter

Instagram

Facebook | QLD | NSW | VIC | TAS | SA | WA | NT | NZ
---
Wild winds lash Victoria again
Tuesday 8th September, 2020
A return to wild and windy conditions for southern and central parts of Victoria overnight as strong northerly winds intensified just prior to the crossing of the front earlier today.
Earlier this morning, strong northerly winds with peak gusts in excess of 100km/h were continuing over much of the warning area which included locations situated within the Central, North Central, North East and West and South and East Gippslands districts and affected areas such as Melbourne, Wonthaggi, Frankston, Falls Creek, Mount Buller and Omeo.
The strongest wind gusts recorded overnight and earlier this morning include a 107km/h wind gust at Mount William at 1:28am, 106km/h at Mount Hotham at 3:51am and 100km/h at the Melbourne Airport just before lunchtime at 11:57am.
Other locations that received significant wind gusts included 93km/h at Essondon at 12:20am, 91km/h at Falls Creek, Fawkner Beacon and Cape Otway, 89km/h at Wilsons Prom at 9:07am and 86km/h recorded at Sheoaks just past midnight last night.
The cold front is expected to maintain an eastward trend this afternoon as it moves over eastern parts of the state late this afternoon and into tonight, however the risk of significant wind gusts have now lessened. There is the very slight chance of an isolated shower or thunderstorm for northeastern parts of the state this afternoon.
A high pressure ridge is then expected to build over Victoria in wake of the cold front thanks to a large region of high pressure developing though the bight, leading to patches of morning fog about the ranges tomorrow morning, with dry mild and mostly sunny conditions that are expected to follow.
The Severe Weather Warning for damaging winds for the central and eastern districts has now been cancelled as of 3:00pm this afternoon.
Image 1: Bureau of Meteorology Radar as at 11:24am 8th September 2020 showing the cold front just prior to sweeping through the Melbourne CBD.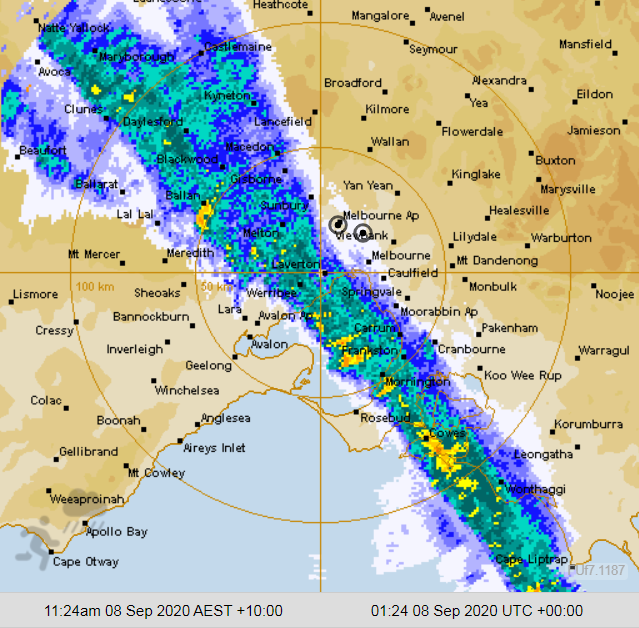 ---