Twitter

Instagram

Facebook | QLD | NSW | VIC | TAS | SA | WA | NT | NZ
---
Heaviest rain in years drenches parts of SA, TAS
Monday, October 5th 2020
The heaviest rain in years fell in some parts of South Australia and Tasmania over the past 24 hours, as a thick cloudband brought widespread rain to the nation's southeast.
A complex weather setup is currently occurring over Australia, with a low pressure trough over the interior being fed by a humid northeasterly airflow, helped due to stronger than normal trade winds at this time of the year due to La Nina event. This system is being significantly amplified by an upper level cold pool that lies over southeast WA/far west SA, helping generate the widespread moderate to heavy rainfall.
Most areas in the path of the rainband saw at least 10-20mm of rain, however a zone stretching from SA's northwest pastoral, through the Lower/Eastern Eyre Peninsula, south of Adelaide, far southeast SA, far southwest VIC and into western and southern TAS saw heavier falls, where 20-50mm was more commonplace.
In South Australia, Cleve registered its wettest October day on record and heaviest total since November 2015, with 45.4mm falling in the 24 hours to 9am. Minlaton in the Yorke Peninsula collected 42mm, its heaviest October fall in at least 15 years, and for any month since February 2014. Numerous other stations saw great falls including Cummins (35mm) Tarcoola (22mm), Wudinna (30mm), Parawa (44mm) and Adelaide (23mm).
In Tasmania, Maydena registered 41mm to 9am, its heaviest fall since June 2018, and wettest October day in more than two decades. Hobart recorded 39mm (on the back of 20mm on Sunday), its wettest October day since 1975.
Cold conditions will linger over southeast Australia over the coming days, whilst moderate rain focuses over central Australia over the next two days. On Wednesday and Thursday, a complex low pressure system is expected to bring another burst of rain, with potential for strong winds and thunderstorms. EWN will provide further details on this over the coming days.
Image 1: Rainfall in the 24 hours to 9am Monday 5th October, 2020 across southeast Australia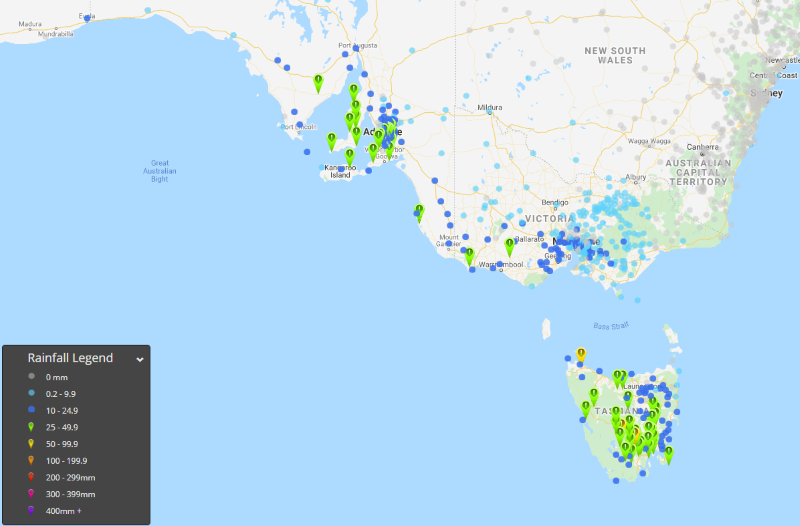 Image 2: Forecast rain across southeast Australia for Wednesday 7th and Thursday 8th October, 2020 from the GFS Model, when more rain is expected (Source: Weatherwatch Metcentre)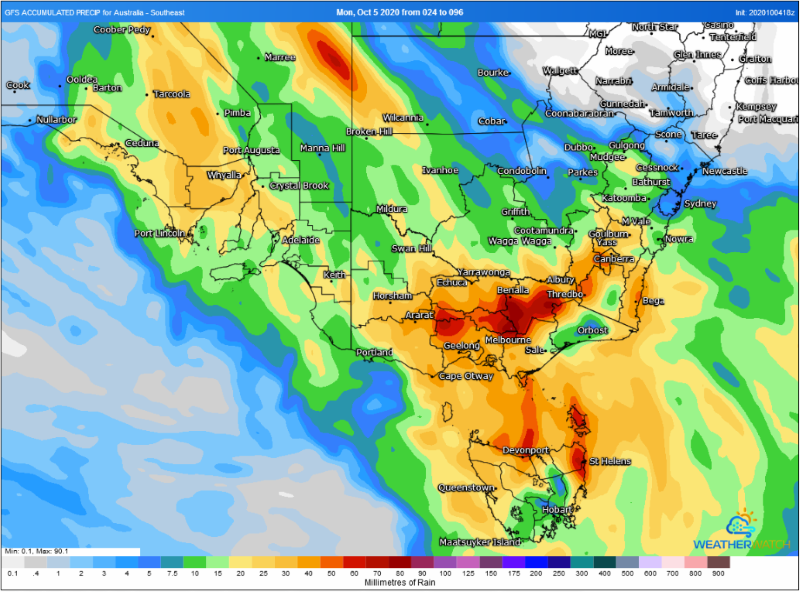 ---