Twitter

Instagram

Facebook | QLD | NSW | VIC | TAS | SA | WA | NT | NZ
---
Bureau of Meteorology releases their 2020/2021 Australian Tropical Cyclone Outlook
Monday 12th October 2020
The Bureau of Meteorology has released their 2020/2021 tropical cyclone outlook, with Australia expecting to see above average tropical cyclone activity across the 2020-2021 season (November to April).
On average, there are 9 to 11 tropical cyclones in the Australian region each season, four of which generally cross the coast. However, due to the development of a La Niņa, an increase in tropical cyclone activity is expected, with the potential for more cyclones and coastal crossings during this season.
At least one tropical cyclone has crossed the Australian coast each season since reliable records began in the 1970's.
Source via Bureau of Meteorology.
Image 1: Image via Bureau of Meteorology.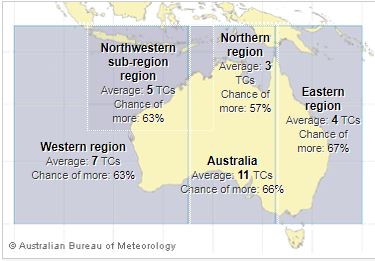 ---