Twitter

Instagram

Facebook | QLD | NSW | VIC | TAS | SA | WA | NT | NZ
---
Low pressure system bringing showers, thunderstorms and strong winds to southern WA
Monday 9th November 2020
The effects of an unseasonably strong low pressure are being felt across the southwest of Western Australia today as showers, strong winds and thunderstorms hit the region, however for some areas the worst is yet to come as the low deepens and nears the southern coast tomorrow.
A band of showers swept onto the state's southwest this morning associated with a front (attached to the low), bringing some much needed rain to the region. Widespread totals of 5-15mm, however some areas saw isolated heavier falls in excess of 30mm. Jarrahwood recorded 32mm to 9am, its best rain since July and heaviest November fall since 1997.
A few isolated thunderstorms have also been observed with the system and remain a threat on the leading edge of the front today as it moves east. On the leading edge (in showers and thunderstorms), strong winds to 90km/h are possible, with a severe weather warning remaining in effect for people in South Coastal and parts of South West, South East Coastal and Great Southern districts.
This system is far more typical of winter than mid to late spring. The low is expected to deepen throughout the day and into Tuesday morning, before arcing north in response to a sharp high pressure ridge to the south of the low. This will cause a much stronger burst of winds along the southern WA coastline on Tuesday with the strongest gusts expected from Northcliffe to Israelite Bay, and possibly as far north as Salmon Gums. Widespread wind gusts of 70-90km/h are likely, however in some places (such as Ravensthorpe and Esperance) gusts may reach up to 100-110km/h. These winds have potential to cause damage to homes and property, bringing down trees and powerlines.
Along the coastal fringe (southwest of Israelite Bay) a few showers and brief thunderstorms are also possible, which bring potential for wind squalls independent of the low. An upper level cold airmass will also bring the risk of small hail in any showers or storms.
From Wednesday, the low will clear WA as it moves into South Australia, Victoria, New South Wales and Tasmania, where strong winds and severe thunderstorms are possible.
Image 1: Wind gust forecast for southern WA at 5pm AEDT (2pm local time), showing potential for wind gusts to reach 110km/h. (Source: Windy.com)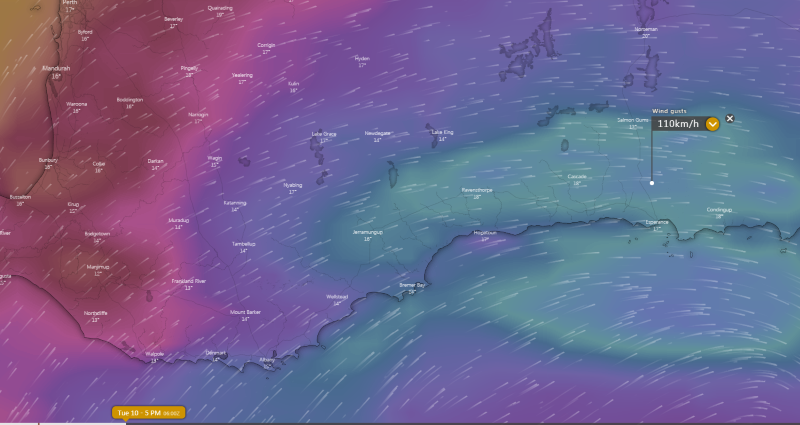 Image 2: Pressure anomaly demonstrating the unusually low pressure for this time of year across the region (Source: Tropicaltidbits.com)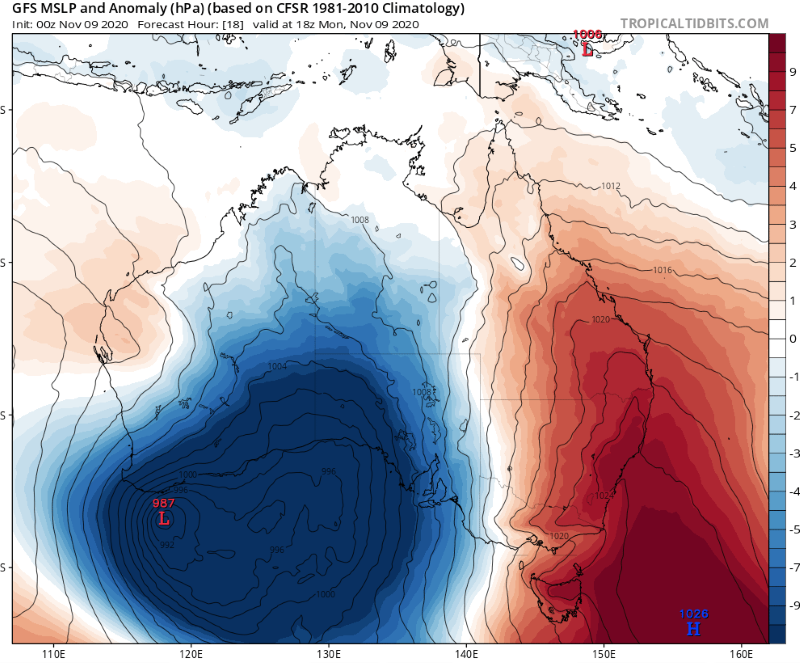 Image 3: Accumulated precipitation from the ACCESSC Model for the 30 hours from 2pm local time Monday 9th November until 10pm local time Tuesday 10th November (Source: Weatherwatch Metcentre)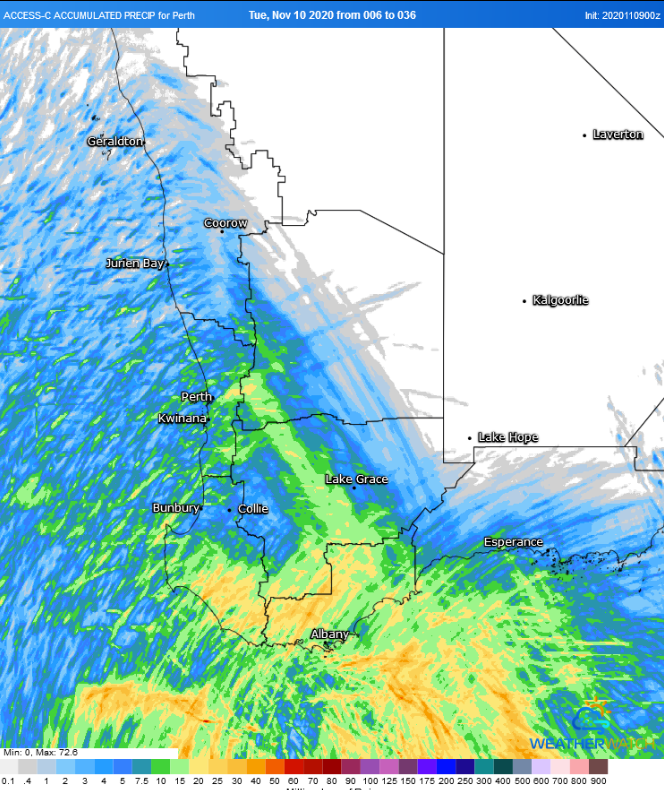 ---