Twitter

Instagram

Facebook | QLD | NSW | VIC | TAS | SA | WA | NT | NZ
---
South Australia bakes with thunderstorms set to hit the south
Tuesday 10th November 2020
Temperatures are soaring across South Australia today with large parts of the state pushing into the high 30s and 40s, with thunderstorms likely this afternoon and into Wednesday morning ahead of a cooler change.
After a very warm night with some places seeing minimum temperatures more than 16 degrees above average, the mercury has soared today with most parts seeing their hottest day so far this year. Most parts of the Adelaide region have reached the high 30s, whilst some northern and western parts of the state have pushed into the 40s (Ceduna 42.9 degrees, Tarcoola 42.1 degrees).
The heat combined with windy conditions are causing elevated fire danger, with Severe Fire Danger across the North West Pastoral, West Coast, Eastern Eyre Peninsula and Lower Eyre Peninsula, reaching Extreme over the Yorke Peninsula. After the recent rain, grass fires are the main threat.
Relief is on the way as a cooler southwesterly change spreads east, with western parts of the state already seeing sharp drops in temperature (Ceduna has fallen from 42.9 degrees at 1:39pm to 24.3 degrees by 2pm local time). Across southern parts of the state, thunderstorms have developed ahead of and with the change.
These thunderstorms are likely to contain little if any rainfall and be higher based, but may produce damaging wind gusts to 100km/h. Thunderstorms are likely to persist this afternoon and evening and into Wednesday morning (focusing on the state's southeast, including Adelaide), before spreading into Victoria and New South Wales by the early afternoon. Damaging winds will remain the main threat due to strong wind shear, however over the far southeast locally heavy rainfall also becomes a threat as the system encounters higher moisture levels.
Cooler conditions are likely in the wake of the change, before hotter conditions return over the weekend.
Image 1: Max temperature to 2:30pm Local Time 10th November 2020, showing the widespread heat across the state (Source: BSCH Stormcast)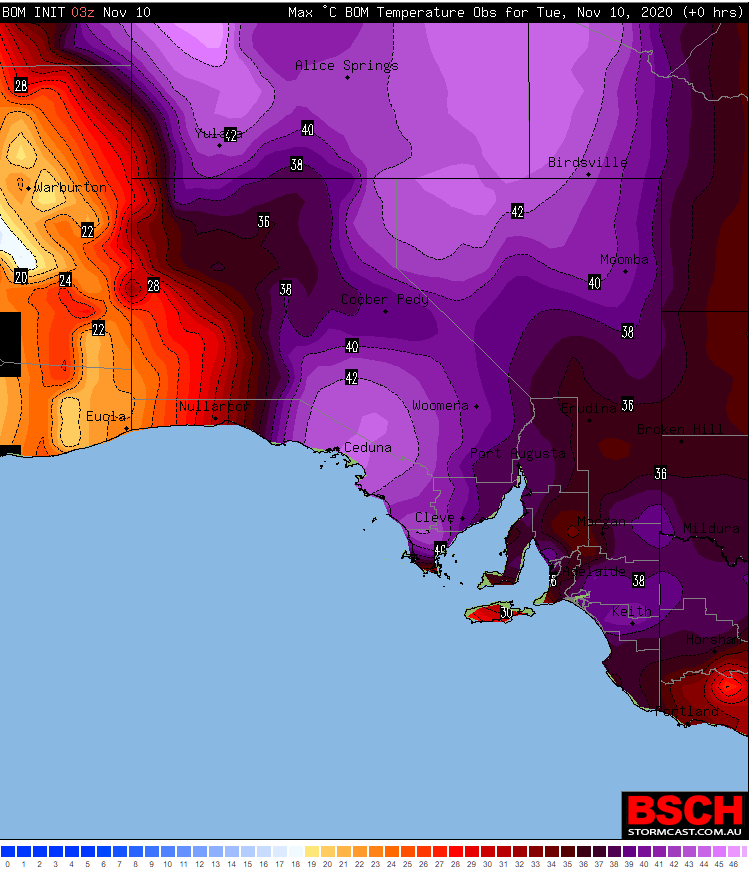 Image 2: Thunderstorm forecast at 11pm AEDT across SA, showing thunderstorms spreading across the state tonight and into tomorrow morning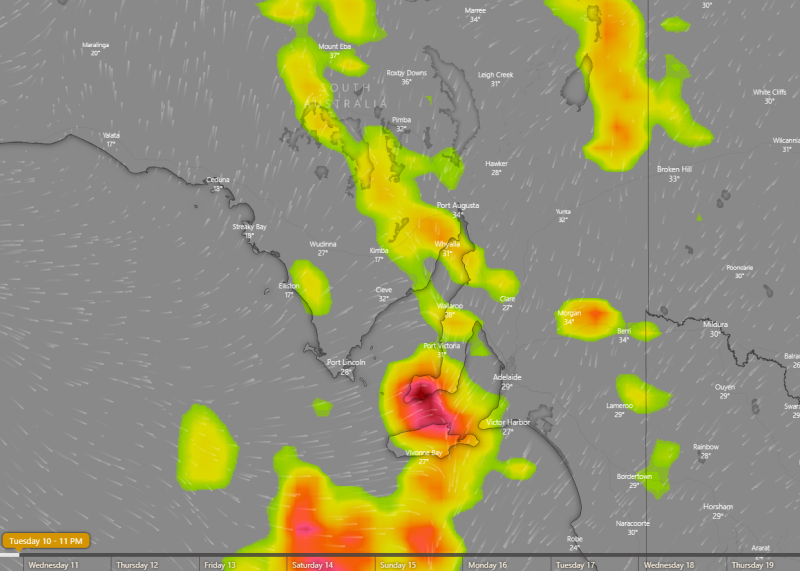 ---