Twitter

Instagram

Facebook | QLD | NSW | VIC | TAS | SA | WA | NT | NZ
---
Thunderstorms to return to SE Queensland
Monday 16th November 2020
After a hot and muggy weekend, thunderstorms will return to South East Queensland on Tuesday afternoon before a cooler southerly change sweeps through the region during the late afternoon and evening.
An upper level disturbance will move through southern Queensland on Tuesday in combination with a surface trough. Whilst wind shear is considered marginal for organised storms, the injection of a modified southeasterly change moving up the coast will increase moisture and low-level wind shear to the region.
This increase in moisture and low-level shear (enhancing the overall bulk shear) will increase the threat for one or two organised storms to develop across SE QLD. Areas west of Brisbane are more likely to experience a severe storm on Tuesday afternoon, with a cooler, stable and capped airmass expected across coastal locations. Some areas along the coastal fringe may still experience localised shower and storm activity however these are not expected to be severe at this time.
Western regions of SE QLD and the eastern Darling Downs are expected to face the potential for a severe storm or two, with Boonah-Gatton-Esk-Kilcoy areas a higher risk. Damaging winds and large hail will be the primary threat with severe storms during the afternoon and evening however locally heavy falls cannot be ruled out.
The southerly change will drop temperatures by up to 5°C on Wednesday, with maximum temperatures in the late 20's to early 30's expected.
Image 1: Bureau of Meteorology storm foreast map. Valid Tuesday 17/11/2020.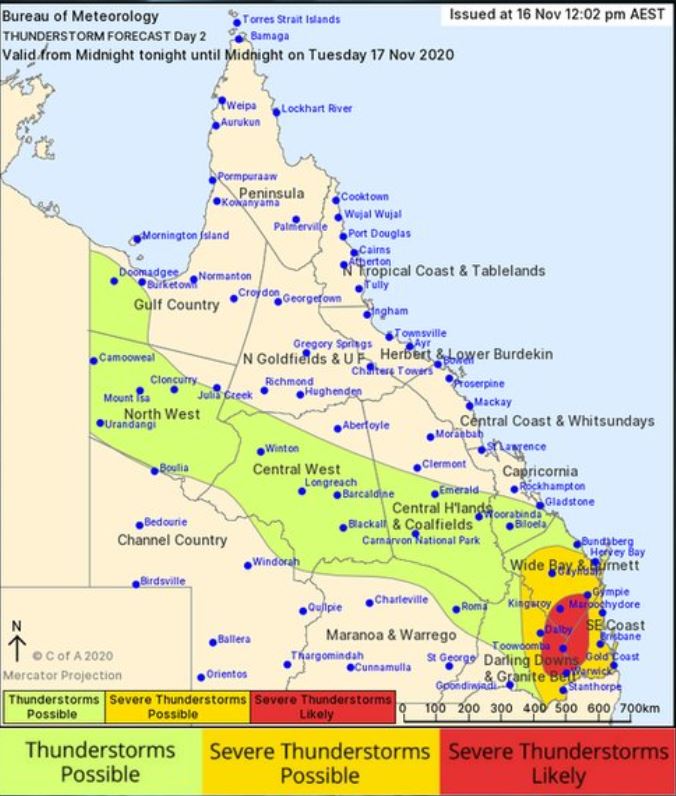 Image 2: High resolution ACCESS C forecast radar. Valid 4pm Tuesday 17/11/2020. Image via WeatherWatch MetCentre.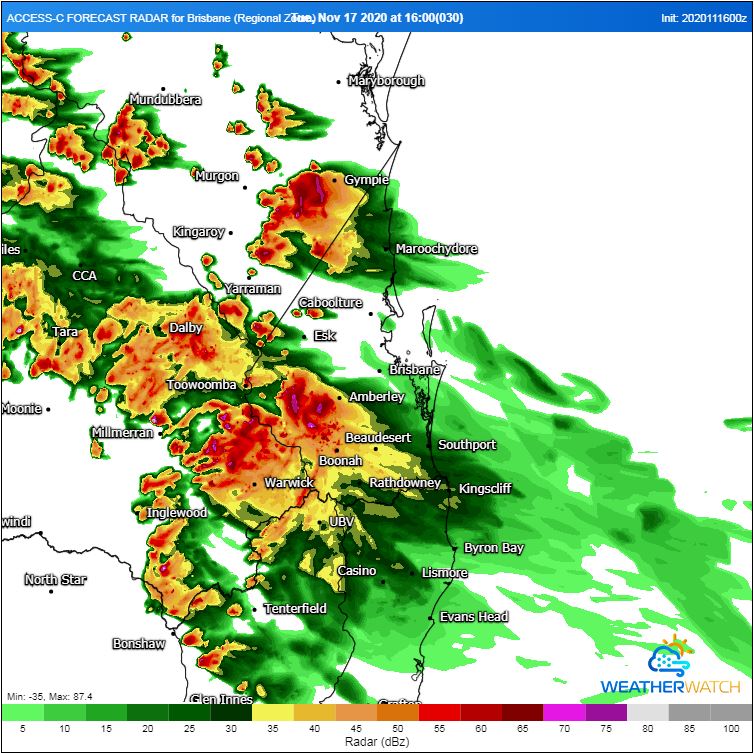 ---