Twitter

Instagram

Facebook | QLD | NSW | VIC | TAS | SA | WA | NT | NZ
---
Temperatures soar in South Western WA with thunderstorms expected through northern and southern regions today
Wedensday, 30th December 2020
Temperatures continue to soar between the Christmas and New Year period for vast portions of Western Australia, with thunderstorms forecast through eastern parts of the South West Land Division and extending into parts of the Gascoyne today.
The temperature reached 43° at Geraldton Airport yesterday with the Perth Airport reaching 39°, which is +10° above the usual average. Morawa Airport also shared the honours with Geraldton reaching 43° within the Central West district.
Other notable temperatures from yesterday included 42° at Paraburdoo Aerodrome and 41° at Badgingarra Research Station, 41° at Gin Gin Aerodrome and 41° at Lanclin in the state's Lower West. The top six highest temperatures recorded across Australia yesterday all belonged to Western Australia.
Halls Creek Airport was the beneficiary of thunderstorm activity across the eastern Kimberley yesterday afternoon recording 9.4mm in a 24 minute period, with 11.8mm recorded within the hour. The wettest location was through the western Kimberley, where Debesa recorded 101mm of rainfall within a 24 hour period.
The hot daytime conditions are expected to retract into central and northern regions during the week and into this coming weekend, as a low pressure trough moves ashore through southwestern parts of the state. As a result of the trough, scattered showers and thunderstorms are likely through parts of the Kimberley, Pilbara, inland Gascoyne, the South West Land Division, Goldfields and far western parts of the Eucla today.
The primary risks today are for localised strong to damaging winds, as thunderstorms situated through southern parts of the state produce very little in the way of rainfall. Conditions are expected to remain similar towards this coming weekend, with consecutive days of thunderstorm activity expected largely concentrated through the central and northern interiors. Localised strong to damaging wind threats and heavy rainfall are likely with thunderstorms through northern parts.
Image 1: December Heat - Surface temperatures for Western Australia at 5:00pm 30th December 2020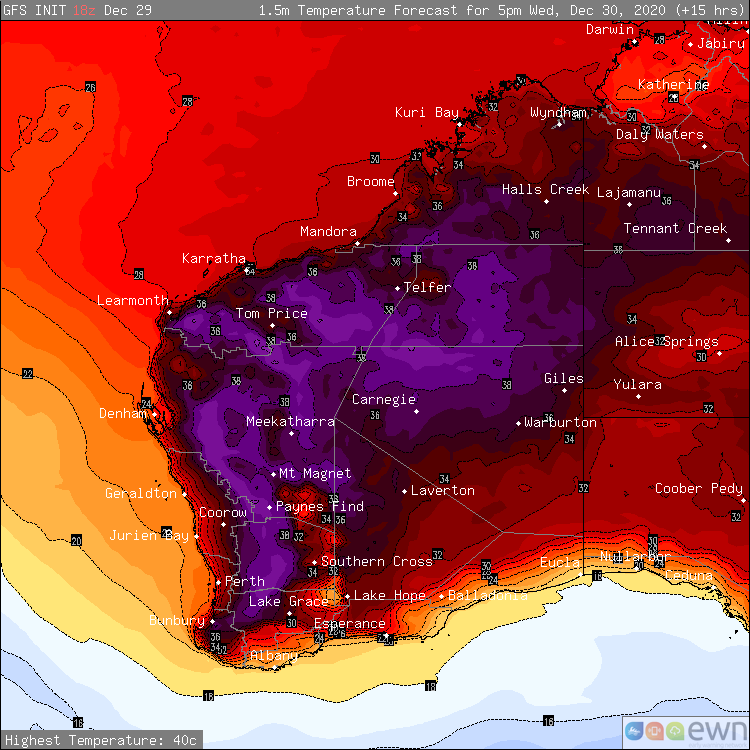 ---