Twitter

Instagram

Facebook | QLD | NSW | VIC | TAS | SA | WA | NT | NZ
---
La Niņa is in full swing, as rainfall increases across Australia
Wednesday 30th December 2020
For the past few months, Australia has been sitting in a La Niņa phase however most of the rainfall had been centred across Southern Australia, with Victoria, Tasmania and NSW registering solid falls, particularly in October.
December has seen the tide turn as an active monsoon and deep easterly winds across the Western Pacific feed into Eastern Australia, driving moisture-laden air through the interior of the continent, helping to generate widespread showers, storms and rain periods.
Over the past week, parts of NSW, QLD, NT and WA have seen widespread falls of 25-75mm with heavier falls exceeding 200mm for some locations, leading to flash flooding and riverine flooding. Persistent falls associated with continuous storm activity has seen the Thomas River at Muttaburra (Central-Inland QLD) rise just below the moderate flood level on top of flooding across parts of the NT and WA earlier this month.
On Tuesday evening, storm activity continued for NSW, generating further heavy falls. Repentance in the Northern Rivers picked up 106mm to 9am this morning with Nashua 106mm, Alstonville 102mm, Terry Hills AWS 105mm (Greater Sydney region) Evans Head 82mm, Dorrigo 53mm and Oberon 26mm. These totals come on top of a significant rain event in early December which produced minor to major flooding for parts of the Mid North coast, Northern Rivers and inland parts of the state.
Further north into QLD, heavy falls were widespread with several regions of the state registering 24-hour rainfall totals in excess of 100mm. Mt Vince West, inland from Mackay picked up 154mm, Paget 159mm, Walkerston 111mm, Gleneagle 136mm, Native Wells 135mm, Warahgai 145mm, Quilpie 51mm and Marathon 74mm.
Rainfall wasn?t confined to QLD and NSW with parts of the NT also recording over 100mm to 9 am this morning. Coolibah picked up 106mm, Maude Creek 109mm, Nutwood Downs 109mm, Howard Springs 82mm and Charles Point 57mm.
During Wednesday and Thursday, further showers, storms and rain periods will continue for Eastern QLD, northern parts of the NT and WA. Heavy falls are likely for parts of the Central and Northern QLD with another 100-150mm expected over the next 24 hours.
Thunderstorm activity will once again increase for parts of Western NSW, VIC and QLD during Thursday onwards, bringing the threat of severe thunderstorms with damaging winds, heavy rainfall and the potential for hail. High moisture content in the atmosphere will promote heavy rainfall which may lead to flash flooding and riverine flooding for some locations.
Image 1: 72 hour rainfall totals to 9am 30/12/2020.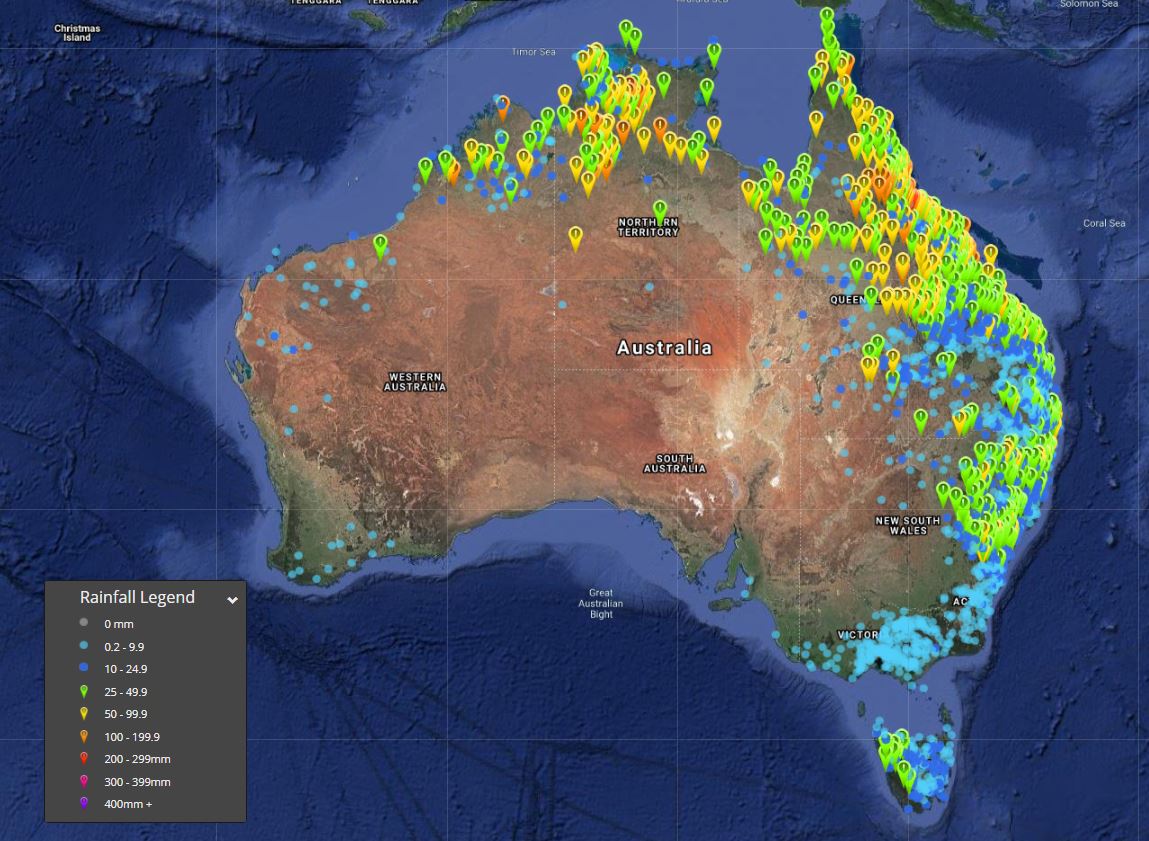 Image 2: Accumulated rainfall totals 1/12/2020 - 29/12/2020. Image via Bureau of Meteorology.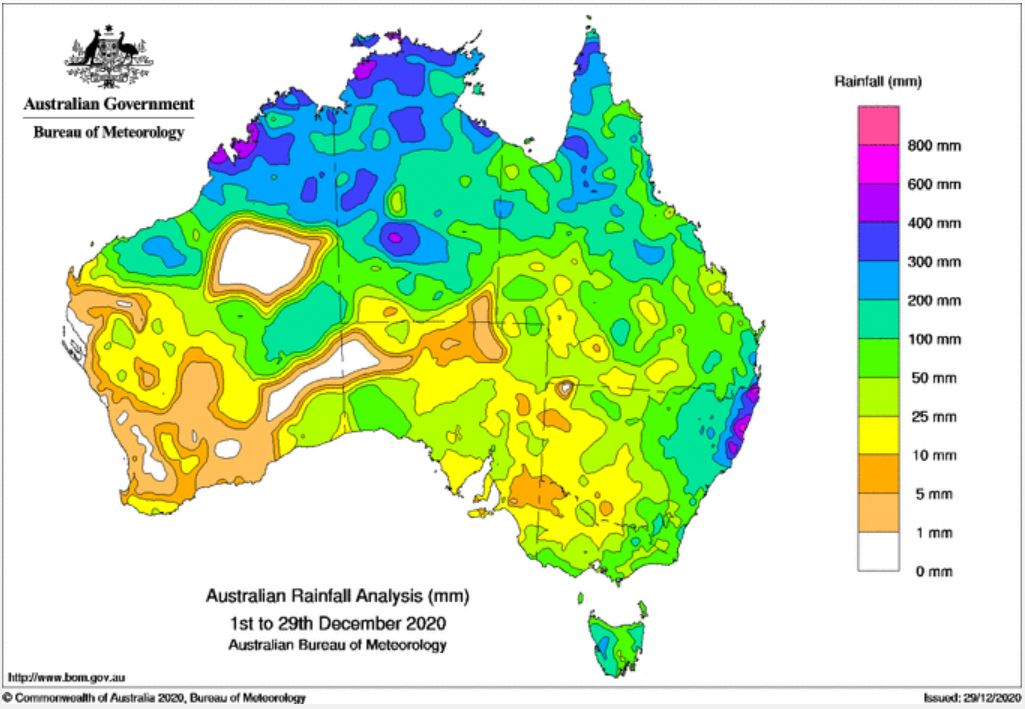 Image 3: GFS rainfall accumulation next 8 days. Image via WeatherWatch MetCentre.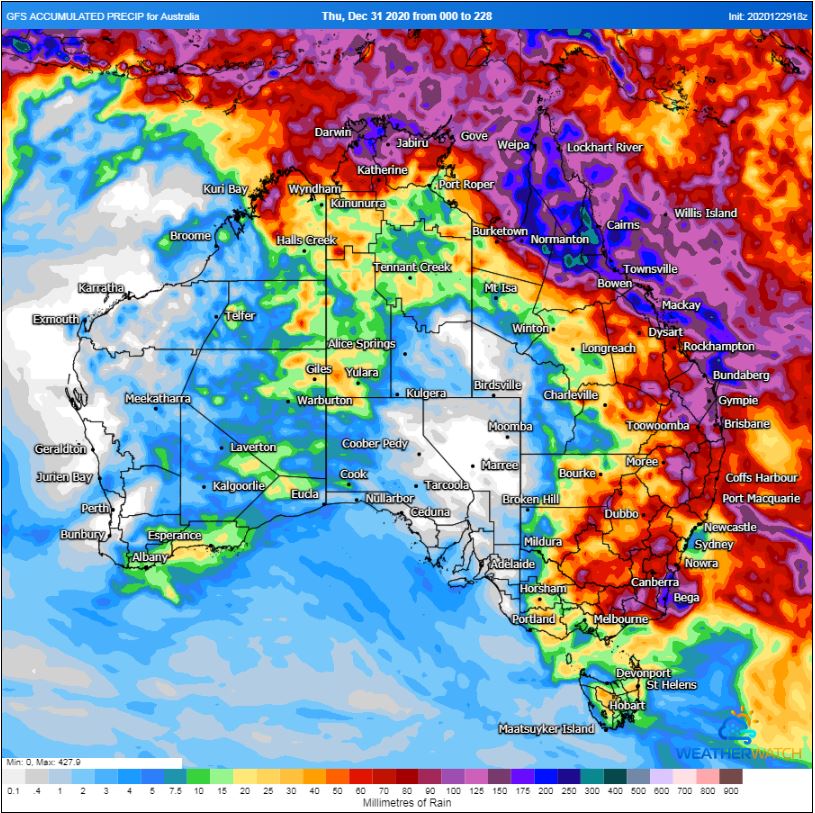 ---