Twitter

Instagram

Facebook | QLD | NSW | VIC | TAS | SA | WA | NT | NZ
---
Heat and fire weather over southeast Australia before a gusty cooler change
Wednesday, 13th January 2021
It has been a hot start to the week for southeastern Australia, with many areas seeing temperatures climbing into the 30s today after recording their hottest day of summer so far on Monday.
It has taken a while to warm up this year with the nation seeing its coolest start to summer since 2011 (and for Victoria, Tasmania and South Australia since 2010), thanks to La Nina conditions causing increased cloud cover and rain across the country (Australia registered its 4th wettest December on record). This has been a welcome change from recent years, particularly last summer when bushfires ravaged the country.
On Monday, temperatures soared into the mid to high 30s across large parts of South Australia, Tasmania, Victoria and southern New South Wales, with parts of South Australia reaching into the low to mid 40s. Combined with gusty northerly winds, several bushfires broke out across the states, however these have now been brought under control.
Similar conditions are expected today, although temperatures will not be as hot and winds not as strong. However, Severe Fire Danger is still forecast across the Flinders, Mid North and Riverland in SA, and Mallee, Wimmera and Northern Country in VIC. A total fire ban is current for the Southern Riverina in NSW.
Cooler southerly winds will prevent most of the capital cities from getting too hot, with Adelaide only reaching 28 degrees, Hobart 27 degrees and Melbourne 32 degrees, with the focus over inland areas today where the southerly change is due a bit later with some places likely to get even hotter than Monday.
Albury is forecast to hit 40C, Wangaratta 41C, Broken Hill 41C, Canberra 35C, Hawker 39C, Coober Pedy 42C and Marree 43C, before a gusty and even squally southerly change moves through during the afternoon and evening, with gusts up to 80km/h possible on the boundary of the change. The change will cause a sharp drop in temperature, and may also be accompanied by dust over inland areas.
The change will cause temperatures to drop significantly below average once again, and is likely to persist until at least mid next week when temperatures will begin to warm up again. A more prolonged burst of heat is possible into late January with indications of a significant build up of heat over the northwest of the country.
Image 1: OCF Forecast Maxmima for Wednesday 13 January, 2021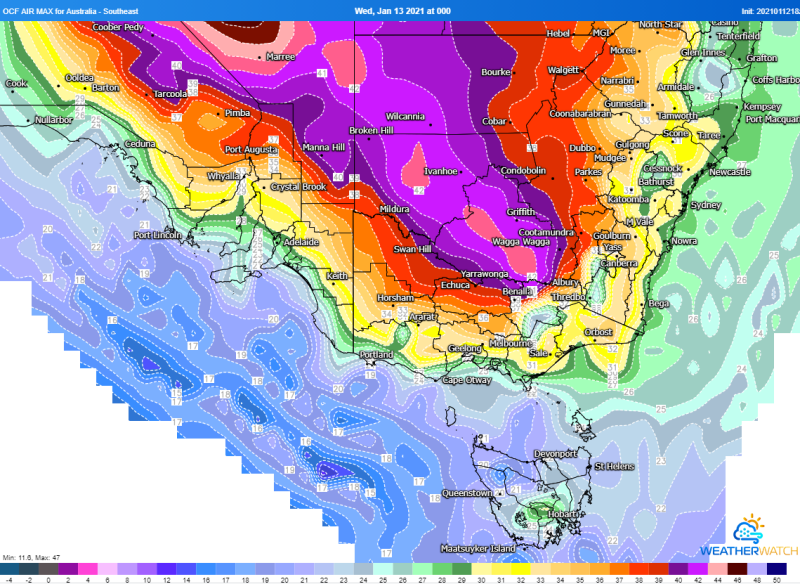 Image 2: Wind gust forecast for 8pm EDT, Wednesday 13 January, 2021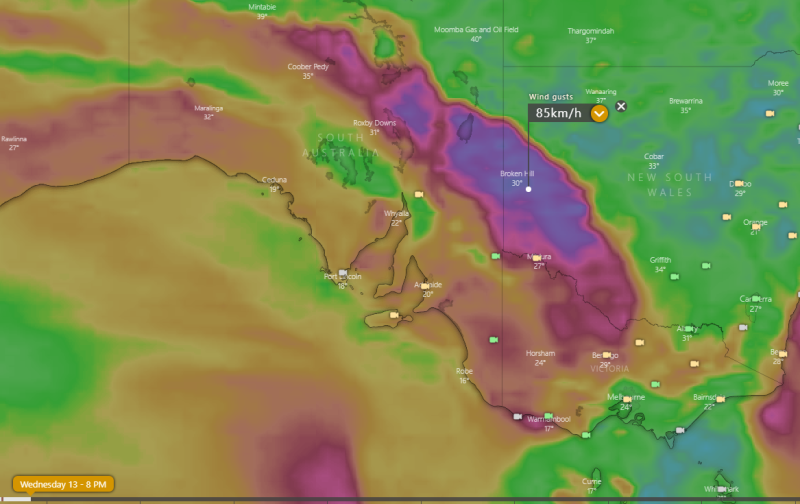 ---