Twitter

Instagram

Facebook | QLD | NSW | VIC | TAS | SA | WA | NT | NZ
---
Hot week for southern Australia as a low-intensity heatwave grips the region
Monday 15th February 2021
As the east coast of Australia gets soaked this week, things will be very different in the south as a band of heat moves over the region, causing the most sustained period of heat so far this summer for many areas.
Many parts of southern Australia have had a cool start to the month with temperatures running around two degrees below average for February, with summer overall much cooler than in the last few years thanks to much more cloud cover and rain over the nation. However thanks to a break in the monsoon the heat isn't finished yet, as a low (to locally severe) intensity heatwave affects the region.
Today, most areas are enjoying temperatures in the mid to high 20s, tending to the low 30s over inland areas. However, parts of southwestern Australia are sweltering through their third consecutive day in the mid 30s, with Perth set to hit 37 degrees today. As a cooler change affects the far southwest from tomorrow, it will slowly push the hottest part of the airmass east during the week.
Esperance will see its hottest pair of days on Tuesday and Wednesday as the mercury rises into the mid 30s, whilst Adelaide is set to see its first significantly hot day on Tuesday, and is predicted to reach the mid 30s through until Friday. Melbourne will bask in low 30s heat from Tuesday until around Friday or Saturday, whilst Hobart can expect to rise into the low 30s on one or two days later this week.
Since the airmass is not that hot, inland areas aren't expected to be significantly hotter than many areas closer to the coast (except the coastal fringe), with temperatures only three-to-four degrees hotter. Northern parts of SA can expect up to around 40 degrees as a peak maxmium (much cooler than it can get to at this time of the year), whilst northern Victoria can expect to only reach as hot as around 37 degrees.
A cooler change is expected to clear the last of the heat out of southern Australia later in the weekend and into NSW and QLD.
Image 1: Bureau of Meteorology Heatwave Forecast from Wednesday to Friday across southern Australia, showing low intensity (to locally severe intensity) heatwave conditions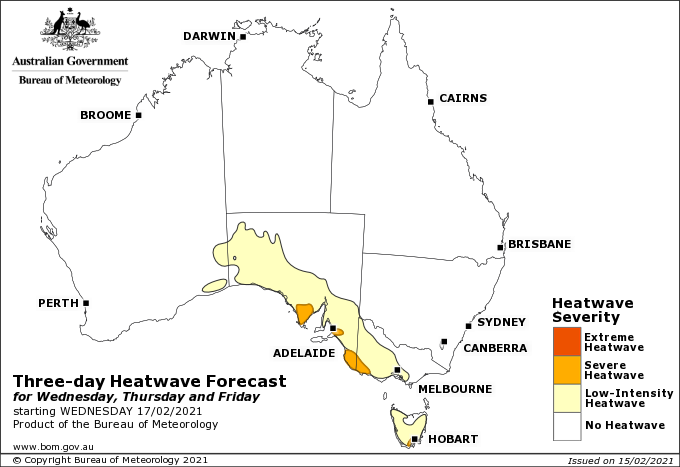 Image 2: Temperature anomaly forecast for Thursday 18th February, 2021 for southern Australia (Source: WXcharts.com)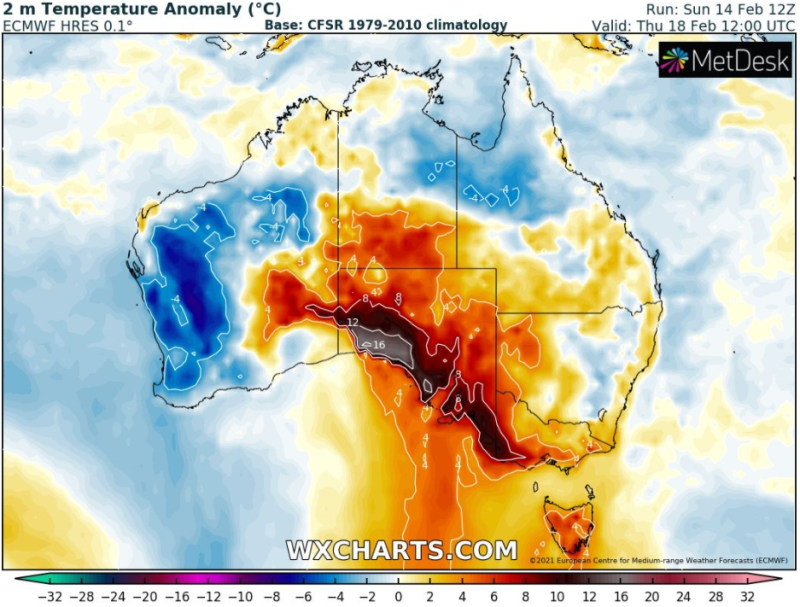 ---