Safe@Work Mobile App
Improve the safety of workers at all locations
Safe@Work makes improving the safety of your employees easier than ever before, providing safety features and functionality for managers, staff and field workers all in the one App. This app is an essential tool for any Company looking to improve safety in the workplace, on the road or in the home office.
Start your trial of Safe@Work here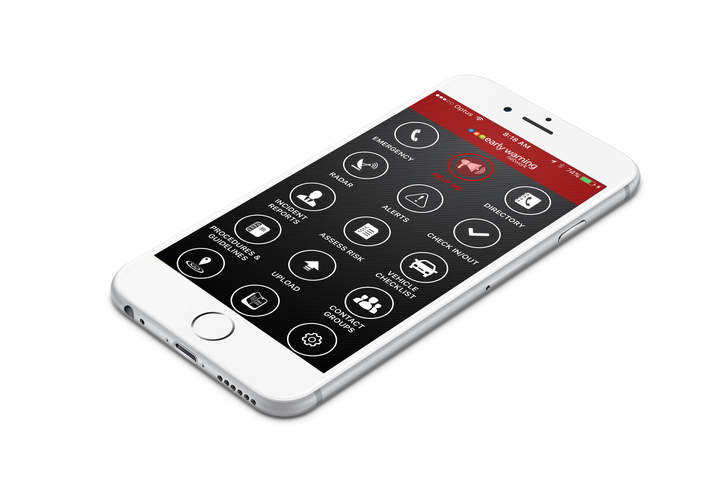 Safe@Work App
Click here to fill out a registration form to try out the Safe@Work App.
Safe@Work incorporates the following critical capabilities to assist you in protecting staff and business operations:
Location-aware emergency dialing

Help Me 'Man Down' function

Location Based EWN Alerts

Group SMS function - perfect in an emergency

Find my location

National Alerts feed

Upload Geo-tagged Messages, Images or Videos in emergency situations.

EWN Weather Radar

Check-in to quickly advise your location

Emergency Directory
Safe@Work Control Room
Use the Safe@Work Control Room from a desktop PC or Tablet to interact with the Safe@Work app and take full control of your own Geographic Notification and Information System (GNIS). The Safe@Work Control Room GNIS provides an unparalleled capability to map, track, monitor, communicate and warn staff as they go about their business. 
Create geo-fence polygons for auto check-in as staff arrive or depart from job sites

Secure recording of all current and historical staff locations for use by HR and WHS managers to ensure staff safety

View location/status of safe@work app users in your Company

Send your own messages or issue notifications to staff using either groups or drawing your own polygons on the map

Load emergency/evacuation plans and check lists

Load emergency contact lists/directory

Review and approve images, video or text uploaded from the safe@work Business App users for display on an internal map.

Create Group/s and manage staff administration
Who would benefit from this service?
Any organisation who has many employees either on a site, within a distributed network or teleworking who want to keep communication and safety channels open at all times such as:
Mining

Construction

Transport

Logistics

Telecommunications

Energy providers

Security

Teleworkers