EWN Launches VIEW360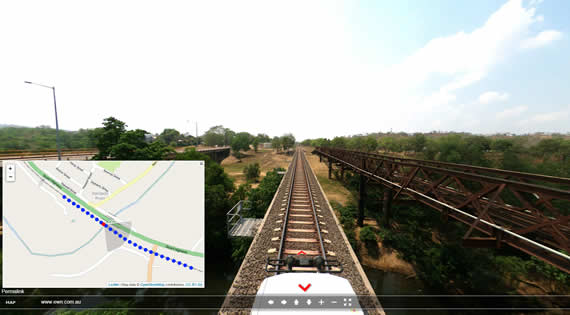 EWN VIEW360 footage of rail corridor for Genesee & Wyoming Australia
EWN recently completed a unique project which involved recording a 360 degree view of the Ghan railway line, running from Darwin in the Northern Territory through to Alice Springs, and down to Northgate in South Australia. This is similar to the 'Street View' most people are familiar with when exploring Google Maps. The length of the track captured is approximately 2200 Km. Over 2.5 million separate images were taken by the six cameras on EWN's VIEW360 camera over a period of 6 days in October 2014. Once EWN returned to the office, this footage was processed using specialized software to stitch the separate wide angle images into millions of zoom-able panoramas.
The project was commissioned by one of EWN's corporate clients, International Rail Management Company, Genesee & Wyoming. The project involved mounting the VIEW360 camera on top of one of Genesee & Wyoming's hi-rail vehicles and running along the track at approximately 80 Kms to capture the footage. A highlight of the project was the fantastic coordination and teamwork shown by the personnel from Genesee & Wyoming and EWN.
EWN VIEW360 in action
Genesee & Wyoming plan to use the VIEW360 footage for operational management purposes such as vegetation monitoring and general situational awareness. Now, whenever G&W need to look at the terrain or condition of the track or surrounds anywhere along the corridor, it's as simple as choosing a point on the map and viewing the footage captured, in 360 degrees.
This technology enables EWN to provide a "VIEW360" of any asset, transport route, post emergency disaster area or anything else you may need to have a permanent 360 degree photographic record of.
If you would like to learn more about how EWN can VIEW360 your business, please contact kerry@ewn.com.au or call on 0403 147 197.
VIEW360 Gallery
&nbsp