Severe Weather and Incident Manager
EWN's Severe Weather and Incident Manager significantly improves the safety of personnel, property and business operations.
The Severe Weather and Incident Manager (SWIM) is an online application and solution developed for business operations who wish to register and manage multiple locations and contacts. SWIM allows a business to manage and add/edit locations, who receives alerts, how they get them, the method and the alert types they receive. In addition to this the system provides substantial reporting and records of all events and communication history. SWIM is an essential tool for business with distributed operations and a commitment to risk management and OH&S.
Benefits:

Improve the safety of employees, customers, visitors and stakeholders
Improve staff moral and sense of well being both at work and home
Saves money from potential property losses
Protects business operations from disruption and downtime
Meets or exceed OH&S and risk management best practice
Improves emergency and crisis management capability within the business
Reduces corporate liability
Improves business communications and flexibility
Provides unprecedented situational awareness to threats
Provides community leadership in corporate responsibility
How it works is easy. Register your interest with EWN and we will provide you a user name and login to the system. From there you geographically register the locations of your business operations. While some might be permanent, others may be temporary, active for just a few hours, whatever you decide. The important thing is the operation where ever it might be is covered. You can then add as many people to receive alerts at that location as you like and decide what alerts and how they might receive them.
Examples of users of the system include property management, construction, energy and resources, councils, distributed national operations and many more.
You can add as many staff members as you like and protect them both at home and at work. You can import databases, create groups or enter people and locations individually. If you are a large organisation we can provide your staff/customers a registration page.
Add Multiple Locations, Contacts and Groups
Add locations or members either manually, through database import or have EWN set it up for you. You can then set up groups and manage warnings, edit locations, contacts, who receives alerts, how they get them, the method and the alert types they receive.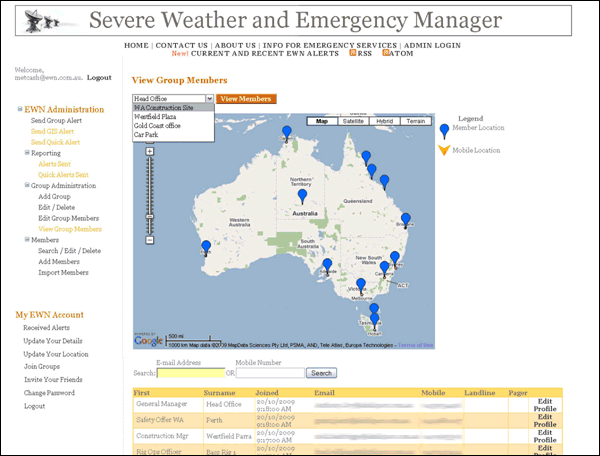 ALL Alerts
With the addition of All Alerts, not only do those needing warnings get them, but State and national managers can monitor all alerts for their area of responsibility.
Alert History
The system records all communications meaning you can look up at any time when, where, what, who got it and how.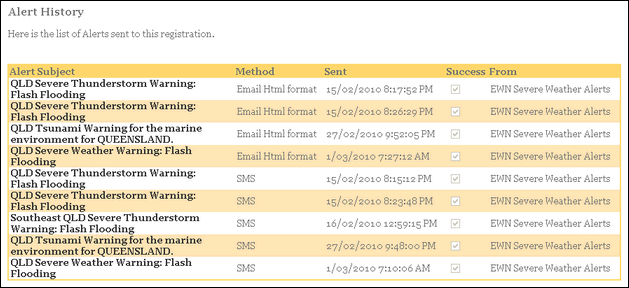 If it can rain on your parade SWIM will reduce the risk of severe weather and other hazards to your operations.